March 14, 2023
Average Distance per Hour of Charging
The average distance per hour of charging has increased from about 400 km in 2020 models to over 600 km for 2023 models – an increase of 55%. The top three 2023 models with the greatest range added per hour of charging include the Lotus Eletre (1090 km), Maserati GranTurismo Folgore (990 km), and XPENG G9 RWD Long Range (980 km). The 2023 models with the lowest range per hour of charging are the Dacia Spring Electric 65 Extreme (170 km), ORA Funky Cat GT (230 km), and ORA Funky Cat 63 kWh (240 km).
Types of Chargers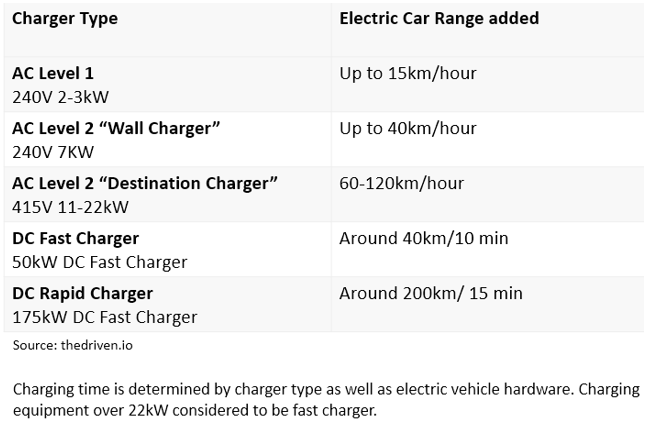 Charging time is determined by charger type as well as electric vehicle hardware. The table provides a list of the various types of charging systems and the range achieved per hour (or minutes) of charging. Slow chargers such as AC Level 1 and AC Level 2 Wall Charger only add 15-40 km per hour of charging. With the average range of electric vehicles over 300 km, it will take several hours to fully charge the electric vehicle. However, fast DC chargers can charge electric vehicles in less than hour.
Price per Charge Time
Average price per charging time has declined since 2020 reaching $126 per kilometer for 1 hour of charging in 2023. This is due to the introduction of fast charging for many models. Incorrys believes that this parameter will remain flat over the next few years.
Retail Price vs Charging Time
The scatter chart compares the retail vehicle price against the charging time for almost 300 models of electric vehicles for the production years of 2020-2023.