October 7, 2022
Chart shows the total number of oil tankers globally, by ship type, with almost 900 Very Large Crude Carriers (VLCC), 700 Aframax tankers and 600 Suezmax ships. Additional charts showing the number of ships in the Russian Sovcomflot fleet and additional tankers that will be required if sanctioned oil needs to be redirected from Europe to Asia (primarily India and China).
As part of the sanctions against Russia, the EU bans insurance and reinsurance of ships caring Russian oil and the EU insurers have until the end of this year to implement the ban. Denying shipping insurance is considered to be one of the most efficient means to exert pressure on the Russian oil industry.
Shipping Russian Oil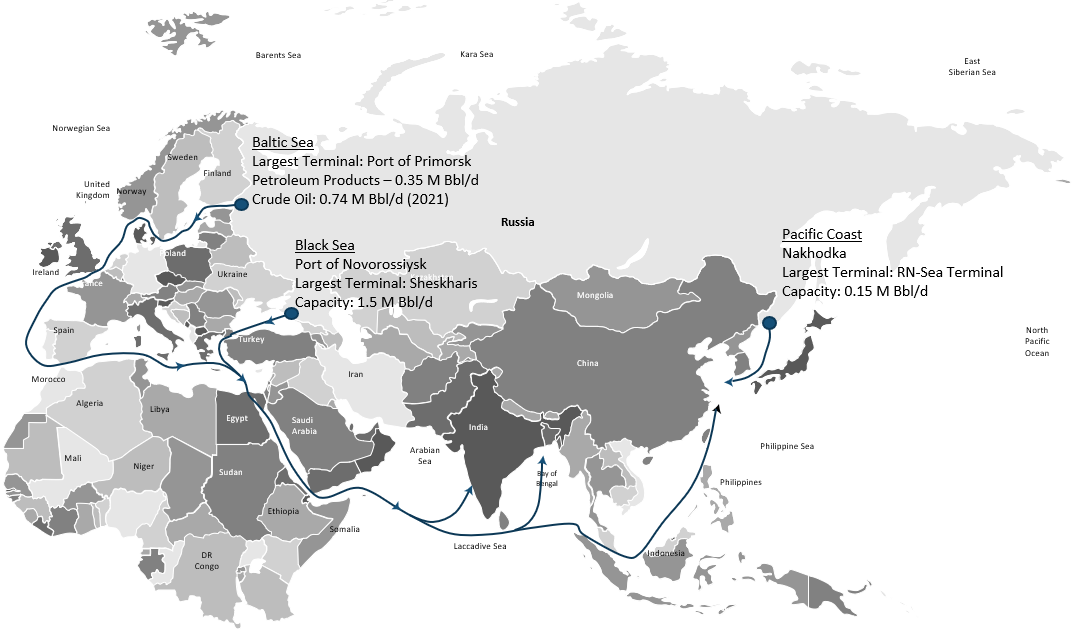 October 7, 2022
Map showing the shipping routes for Russian oil and the location of the 64 Russian oil export terminals. Russia exports crude oil from four main regions: the Baltic Sea, Black Sea, Pacific Coast and the Arctic.
Shortly after European oil sanctions take effect by the end 2022, Russia would have to redirect marine traffic away from Europe to Asia, primarily.
African Gas Supply to Europe
April 8, 2022
Shows the transportation routes of African natural gas to Europe via existing and proposed pipelines from Algeria to Spain and Italy. Additional chart showing total Algerian natural gas exports to Europe between 2010 and 2020 in Bcf/d.
Incorrys estimates that although Africa can only provide modest increases in gas exports to Europe  in 2022-2023, African gas supply can grow in the next 3-5 years.
 Canadian Natural Gas Pipelines
Western Canada Natural Gas Pipelines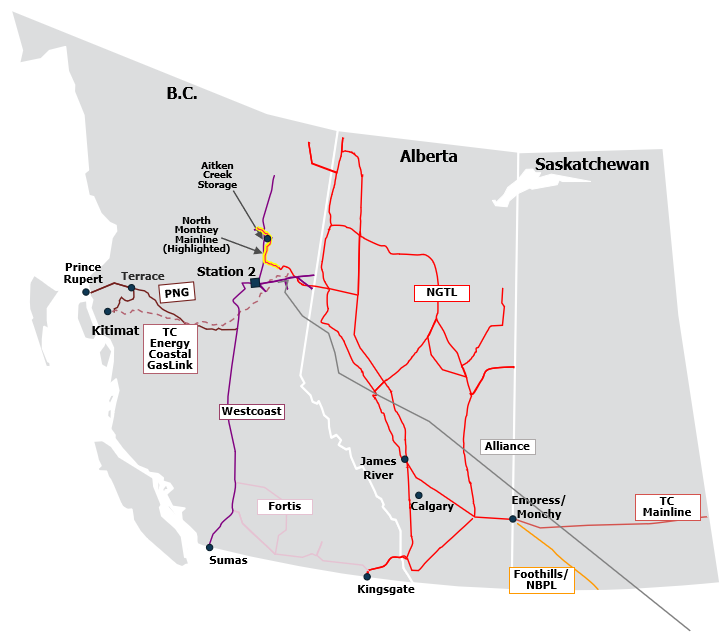 June 28, 2023
Shows the natural gas pipeline systems in western Canada, including main export points and the new Coastal GasLink currently under construction to feed LNG Canada's export facility.
As producers have migrated activity to the low cost Montney play, NGTL has enhanced capacity along the Western leg upstream of James River (USJR). As a result, the basin has become less geographically diversified with the majority of production now on West portion.
Canada Can Supply More Oil to Global Markets in Medium Term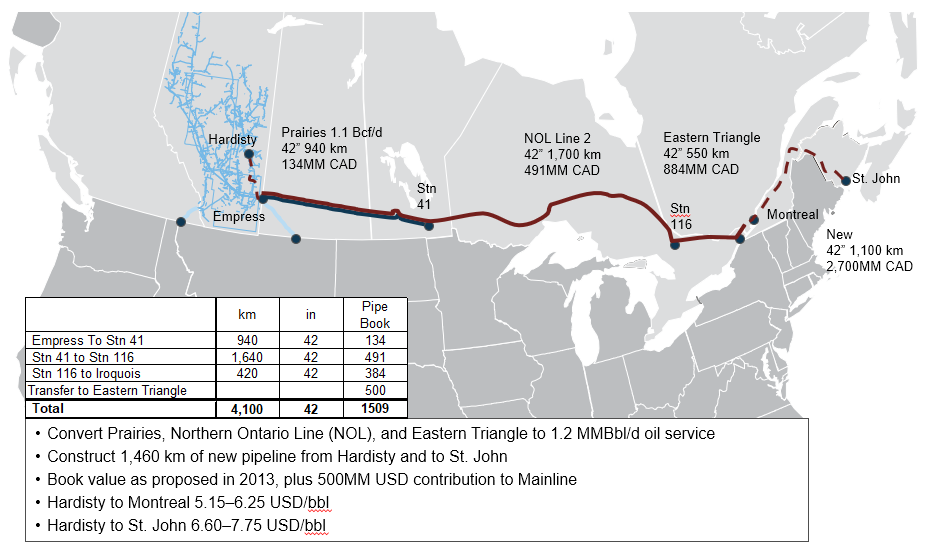 April 19, 2022
Shows the Energy East Pipeline including pipe length, diameter, booked value, and tolls for moving oil through a portion converted from natural gas to oil. Additional chart shows the amount of revenue calculated using the Brent oil price (US$/Bbl) and assuming a throughput of 1.1 MMBbl/d.
As the Russian invasion of Ukraine continues, the rest of the world has begun to scramble for Btus in every form – Crude, Natural Gas, Renewable sources. The environmental file is quickly heading to the backburner as countries realize the economic and geopolitical imperative to energy security and the importance of strong allies with control of energy.
Western Canada Oil Pipeline Capacity and Flows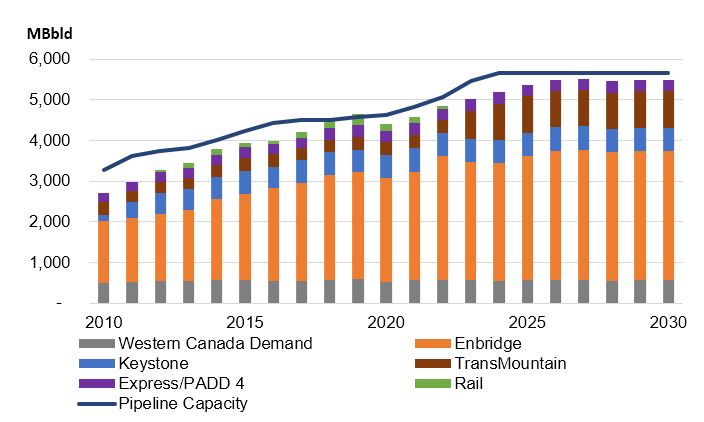 April 14, 2022
Forecast to 2030 of total Western Canada oil supply, pipeline capacity, Alberta refinery demand, and potential pipeline expansions.
Recently, oil production in excess of demand and pipeline capacity is transported to market by rail cars.