Latest Energy and Environment Forecasts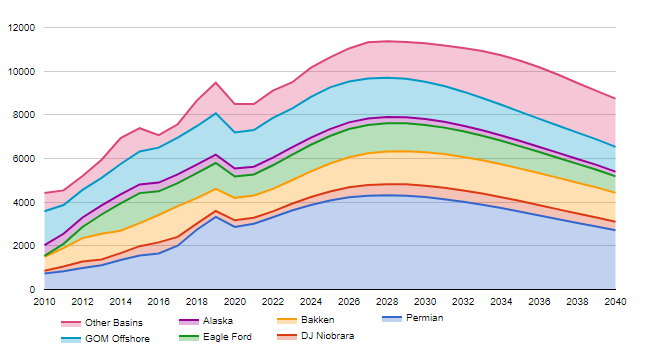 In 2020 almost 61% of US Crude oil production came from Tight Oil basins: Permian, Eagle Ford, DJ Niobrara, and Bakken. US crude oil production will continue to grow and reach 11,400 MBbl/d in 2029. US crude oil production will decline after 2029 due to maturity of Tight Oil basins.
February 22, 2023
The 2023 estimated average price of currently available vehicles is USD $72,600 (excluding some of the very expensive models); this compares to Incorrys 2021 estimated average price of USD $70,360. Prices of BEVs, adjusted for inflation, have remained relatively flat over the last 3 years despite efforts to reduce the cost of batteries (the most expensive component of the electric vehicle). The global car industry is still in the process of transitioning toward EVs which is expected to take at least another 5-7 years. However, the price of EVs relative to those of gasoline vehicles are expected to decrease after 2024-2025, while battery capacity will continue to grow. Overall, customers now have a greater variety of BEV models to choose from ranging from more affordable to luxury.
December 15, 2022
The Russian budget depends very heavily on revenue from the energy sector; particularly from oil and gas. Of the total 2023 Russian federal budget revenue of 26 trillion rubles, 34% is expected to come from the energy sector. The Russian deficit, according to their 2023 budget, is expected to be around 3 trillion rubles – an optimistic scenario. The budget deficit will be financed from the both the National Wealth Fund, which was 9-10 trillion rubles at the end of 2022, as well as borrowing on the domestic market. Although the National Wealth Fund will be sufficient to finance the Russian economy and war efforts in 2023, and perhaps longer, the financial stability of Russia remains uncertain.
December 15, 2022
Incorrys expects limited decline in Russian supply in next 1 – 1.5 years and Russia will remain one of worlds largest oil exporters. Due to the financial issues facing Russia (from sanctions, the cost of the war on Ukraine and inability to access capital in western markets) coupled with the lack of new western technologies, Incorrys expects Russian oil production will decrease significantly over the coming years as little to no new development is expected to occur.
October 27, 2022
The cost of Russian oil in USD/Bbl for 2012, H1, 2022, and H2, 2022. Since Russia's costs are not on a 'full cycle' cost basis like North America, Incorrys calculated an equivalent 2021 cost of the US Permian Basin for comparison. The total cost of Russian oil reaches USD $40-45/Bbl in 2021 including the cost for development of new fields however, as most new fields are located in remote areas of Siberia, they require significant infrastructure investment. The total cost of oil in Russia without new field development is comparable to costs in the Permian and other US Tight Oil basins.
October 25, 2022
Russia primarily produces conventional oil but also has a very large resource of Tight Oil although there currently is no active exploration. The largest oil producing region in Western Siberia which accounts for over half of Russian oil production. The largest potential Tight Oil formation is the Bazhenov Formation, which covers most of Western Siberia, although Incorrys believes that development of Bazhenov Shale will not proceed in the near future due to the high cost and lack of technology in Russia.
October 11, 2022
Incorrys believes that without western oil producers and oilfield service companies, Russia will not be able to increase their reserves base, maintain production, or reduce costs as most new fields require the latest technology to explore, develop and produce. While production from older fields will decline at a rate of up to 40%, technology Russia had previously acquired will work for a short while. However, as the drilling of new wells is always required to maintain or grow supply, a drop in production due to aging technological is expected to occur this year.
October 7, 2022
There are over 2,000 oil tanker ships worldwide of the Very Large Crude Carriers (VLCC), Aframax and Suezmax classes. By comparison, Russia's Sovcomflot fleet only consists of about 60 of the same class of vessels with an additional 60 ships designed to transport refined products and to shuttle crude oil from offshore platforms to the coast. If sanctioned Russian oil needs to be redirected to Asia (primarily India and China) there will be a need for an additional 120 vessels of varying sizes, including VLCC.
October 7, 2022
Russia exports crude oil from four main areas: the Baltic Sea, Black Sea, Pacific Coast and the Arctic. Russia has approximately 64 oil terminals although only a few of them are considered large export facilities. Shortly after European oil sanctions take effect by the end 2022, Russia would have to redirect marine traffic away from Europe to Asia, primarily. Discusses shipping transit times, tanker rates, and additional transportation costs to India and China for oil diverted from Europe.
More Energy, Environmental, and Technology Data and Forecasts
Recent Topic Reports: Energy Markets,  Environment, and Technology
August 2021
Cost of North American Oil and Gas
Overview of full cycle cost components: finding and development cost, basis differentials, operating cost, royalties and taxes, overhead, and cost of capital
Full cycle cost of US Tight Oil and Conventional Oil basins
Full cycle cost of major natural gas basins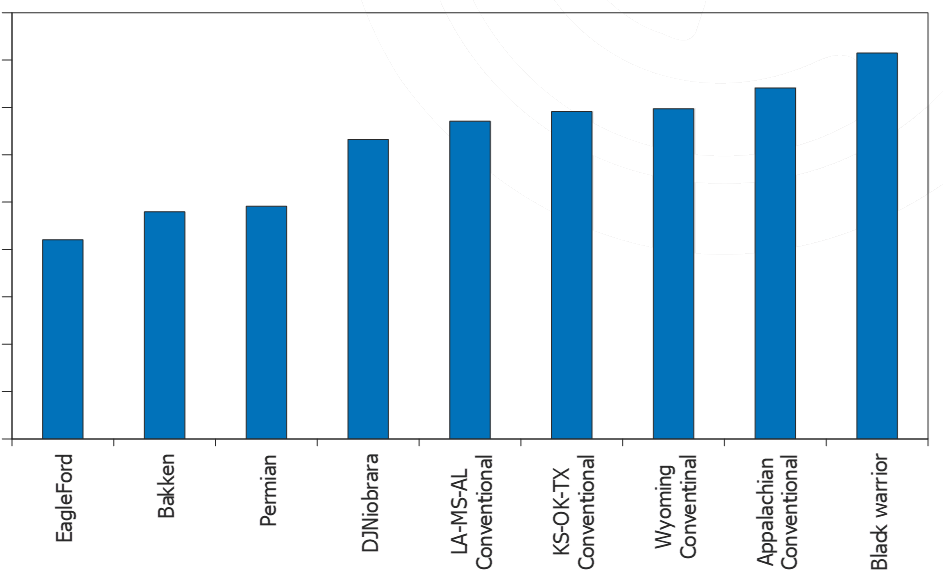 Subscribe to Incorrys Information System
Decisions in complex industries requires more than just data, it requires a thorough understanding of the data and the appropriate context; Incorrys Inc, offers an Information System where you can access comprehensive historical data, forecast and analysis on the Global Energy Markets, Disruptive Technology, and Environmental Management and policy.
Access to Incorrys Information System 365 x 24  x 7
Incorrys Videos on energy and environment
Incorrys Articles on major trends and energy and environment
Incorrys Newsletter: Articles, Webinar Announcements, News
Monthly Analytical Reports critical topics related to energy and environment
Webinars related to monthly analytical reports
Two Custom Debriefings: Fall and Spring debriefings for enterprise subscribers
Custom Consulting: Incorrys experts are available for ad-hoc consulting at any time