June 27, 2023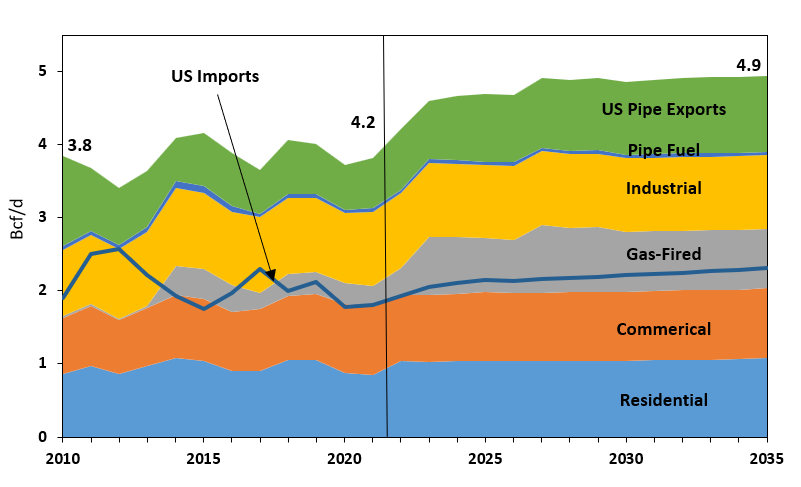 When we look at how much supply pull is required, we look at the Eastern Triangle demand first for some of those answers. TC mainline supplies a lot of this eastern demand from the Eastern Triangle so when we think about the Eastern Triangle, we are thinking Ontario and Quebec.
The residential/commercial sectors, which meets seasonal heating demand, currently accounts for almost 50% of the market and remains relatively flat over the forecast. These sectors market share declines to about 40% by 2035 as gas-fired generation increases. Above this core demand is gas fired power demand that we expect to grow steadily over the next decade to account for some of the nuclear refurbishments that are going on in in Ontario. It declines slightly as we move toward 2030 with the completion of refurbishments at the Bruce and Darlington nuclear sites. The Pickering nuclear facility is expected to be shuttered completely by 2024 resulting in the loss of 3000 megawatts of nuclear capacity. Typically, in a year, 2000 megawatts of refurbishments at Darlington or Bruce goes on into the next decade and are expected to be completed by 2031. This results in gas fired power demand coming off a little bit further into the early part of the next decade. Industrial demand remains fairly flat over the course of the forecast.
In 2005, 1.5 Bcf/d more gas was exported to US pipelines than was imported into Dawn. In 2020, 1.2 Bcf/d of excess natural gas is imported rather than exported into US pipelines. In 2010, US pipe exports begin to decline as the shale gas that came on in the Marcellus area results in Niagara and Chippewa begin to reverse. US imports coming into the Dawn Hub and Niagara/Chippewa have been fairly steady. We'll see a little bit of expansion there as we go forward into the next decade, in the Dawn Hub for the most part. Total Eastern Triangle demand less the US imports basically equates to the Canadian mainline flows. As such, the Canadian mainline acts as a marginal pipeline for the gas- fired power in Ontario markets.
As gas-fired demand increases, Incorrys believes US imports will remain steady and the eastern triangle market will be satisfied by increased western Canada gas supplies. Increased gas utilization in the Eastern Triangle, coupled with further depreciation of TC Mainlines prairies facilities, will put downward pressure on tolls post 2026 settlement.
Map of the Eastern Triangle Region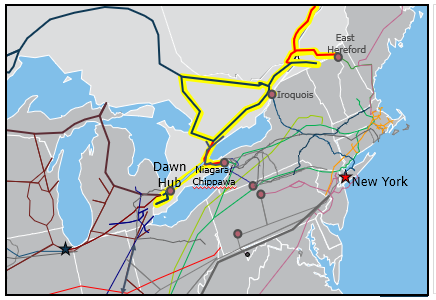 TransCanada's Northern Ontario Line (NOL) interconnects with the Eastern Triangle portion of the Mainline south of Station 116 at North Bay and extends to the southeast and southwest portions of the system to supply Ontario, Quebec and US export markets.