June 28, 2023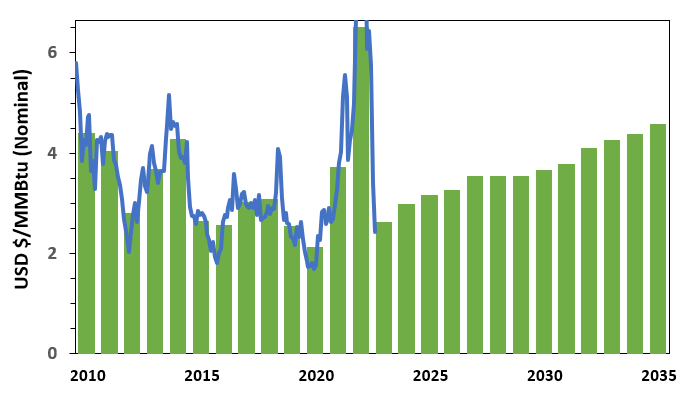 Uncertainty in 2020 commodity markets saw Henry Hub pricing fall, largely due to Covid's impact that lead to a substantial drop in LNG exports (to 3.1 Bcf/d in September 2020 from 8.0 Bcf/d in January 2020). The lower than expected commodity prices led to underinvestment and a corresponding drop in rig counts and production. The 2020 price of 2.13 USD/MMBtu is down 30% from the $3.00+ seen in 2018 and 2019.
Following the significant drop in prices in 2020, prices increased rapidly over the past 2 years  to $3.70 in 2021 and over $6.50 in 2022. A number of factors contributed to the price spike in 2022 but it was primarily driven by energy security concerns following Russia's invasion of the Ukraine in February 2022. This caused European prices to increase significantly, which in turn pushed US LNG export prices higher. In addition, cold US weather in early 2022 and dwindling storage inventories, coupled with increased LNG exports ran prices up further on domestic supply concerns.
Heading into 2023, Incorrys expects supply to begin to recover and, coupled with normalized weather, will result in a more balanced market. The Henry Hub price is forecast to grow from $2.60 USD/MMBtu in 2023 to $3.65 in 2030 and to over $4.00 by 2032.
Henry Hub, located in Erath, Louisiana, is the main natural gas pricing point in North America and serves as the official delivery point for natural gas futures contracts traded on the New York Mercantile Exchange (NYMEX).