March 7, 2022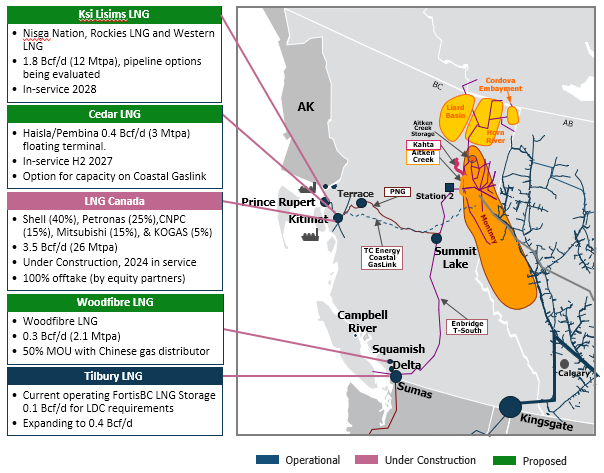 Back in the early 2010's there were about 20 LNG facilities planned in Canada, primarily on the West Coast but also a few in Quebec and the East Coast. However, due to poor economics, regulatory uncertainty (partially due to the BC LNG tax) and weak western Canadian natural gas prices, the majority of these proposed facilities have sinec been shuttered.
Today, there is currently only one small export facility operating in southwest BC and LNG Canada is currently under construction which Incorrys expects to be in service in 2024. There are currently other three proposed facilities, of these, Incorrys expects Woodfibre to proceed. In late 2021, Woodfiber had arranged about 400 MMcf/d of capacity on Westcoasts's T-South and awarded the Engineering, Procurement, Fabrication, and Construction (EPFC).
Access to pipeline connectivity is a very important piece for developing Western Canada LNG export liquefaction projects:
Coastal Gaslink is under construction with expected in-service of 2024

LNG Canada long-term commitment
Cedar LNG has an option for capacity

Enbridge T-South operates at 2.3 Bcf/d of capacity.

FortisBC LDC has firm transport to service the Vancouver/lower mainland region
Nov 2021 Woodfibre LNG has acquired over 400 MMcf/d transport
In February 2022, Cedar LNG awarded its FEED (front-end engineering and design) contract for the project and filed for both the federal and provincial environmental impact assessments. They expect to make their final investment decision in 2023 upon completion of the environmental review.
Ksi Lisims LNG is assessing pipeline options.
Costal GasLink is expected to cost $6.7 Billion+.