November 26, 2020
The chart shows natural gas demand for oil sands production in Western Canada. The forecast is based on Western Canada oil supply and pipeline capacity forecast, while taking into account the improvements in energy efficiencies in oil sands production. Incorrys expects that gas demand for in-situ oil sand production will reach 2.21 Bcf/d, up from 1.42 Bcf/d in 2020, while mining production will reach 0.45 Bcf/d in 2030 up from 0.40 Bcf/d in 2020.
Incorrys forecast assumes that In Situ projects use about 1.1 Mcf/Bbl of bitumen whereas, Mining projects use 0.25 Mcf/Bbl.
Western Canada Oil Pipeline Capacity Flows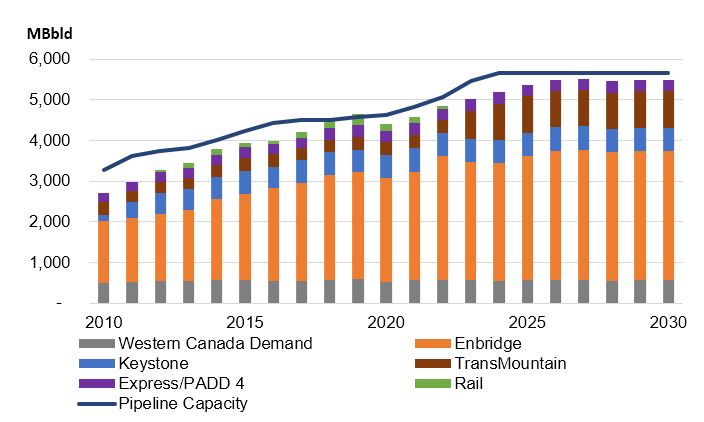 The chart shows total Western Canada oil supply, pipeline capacity, Alberta refinery demand, and potential pipeline expansions through 2030. Recently, oil production in excess of demand and pipeline capacity will be transported to market by rail cars. Forecast observations:
With regulatory uncertainty and government intervention, oil sands producers have switched from business development strategy to an operations strategy. Therefore, Incorrys believes producers will take a cautious "wait and see" approach and production will lag pipeline developments.
Enbridge flows are expected to increase in 2022 as Line 3 comes into service.
TransMountain Expansion completion in late 2023 diverts rail and Enbridge Midwest directed flows toward West Coast/Asian markets.
Although not in our forecast, the potential for Keystone XL 2020 in service could further erodes flows on Enbridge towards Cushing and Gulf Coast markets.
With incremental new pipe completed in 2022, rail shipments are no longer economic.