Jul 6, 2023
Dawn Basis Differentials Relative to Henry Hub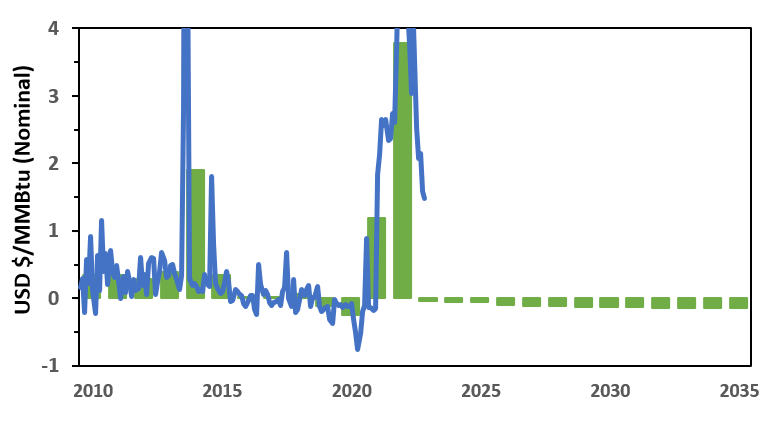 Dawn Basis Drivers
Winter 2022-23 proved difficult for Dawn/US Northeast pricing; colder than normal, competing with Europe for LNG availability, and high fuel oil pricing. Return to more normal weather conditions and better European supply security should bring more normalized pricing to Dawn.
Dawn should be well supplied with Western Canada and Appalachia supplies going forward with summer/winter spreads narrowing slightly as TC Mainline tolls reset post 2026 settlement.
Dawn Price Forecast to 2035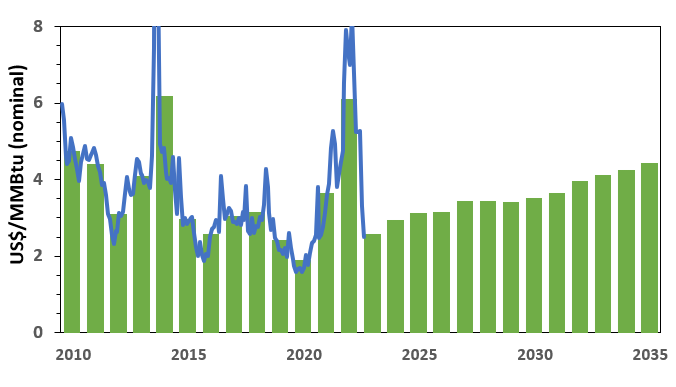 In general, all North American natural gas prices were impacted directionally the same over the past couple of years; downward due to the covid pandemic in 2020, increasing in 2021 as markets recovered and jumping considerably higher in 2022 following the Russian invasion of the Ukraine. However, not all price points were impacted to the same degree.
The 2020 Dawn price of $1.90 USD/MMBtu is the lowest annual price recorded since 2010 and down 150% compared to $4.75 in that year. Like all North American prices, Dawn increased the 2 years following 2020; up 90% to $3.60 in 2021 and up a further 70% to $6.10 in 2022. Incorrys expects Dawn prices to fall from $6.10 in 2022 to $2.60 in 2023 as increased supply balances the market. Prices generally continue to increase over the forecast period reaching $4.40 by 2035.
The Dawn Hub, located in southwestern Ontario, is one of the largest integrated natural gas storage facilities in North America with with access to numerous supply sources, including western Canada, and demand centers throughout North America.