June 28, 2023
AECO-NIT Basis Differential Relative to Henry Hub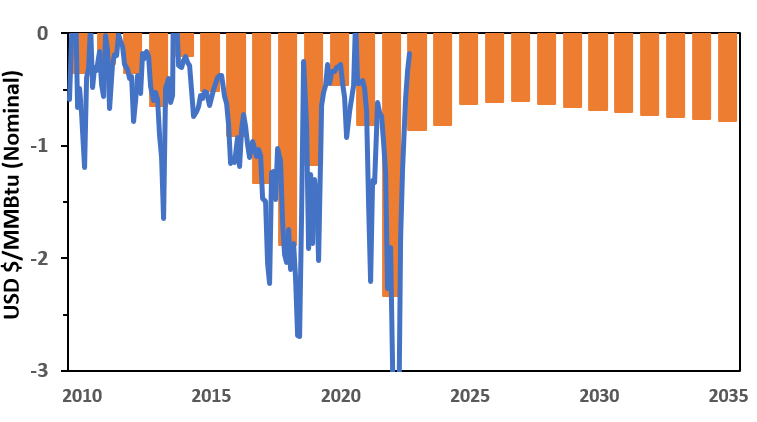 AECO-NIT Basis Drivers
High EU gas prices increased 2022 Henry Hub prices while AECO-NIT, with limited access to LNG export markets, had limited relative upside resulting in a widening of the basis differential. Reset of Henry Hub pricing levels in 2023 – narrows basis.
Increased Western Canadian pipeline connectivity, both intra-WCSB (USJR) and inter-WCSB (GTN expansion, Coastal GasLink, and TC Mainline lower tolls post 2026), provide additional outlets for Western Canada production – narrows basis.
LNG Canada start-up in 2025 brings new LNG exports off Canada's west coast – narrows basis.
Increasing Canadian Carbon pricing throughout the forecast is a competitive disadvantage for Canadian producers in US markets – widens basis. 
Overall increase in Henry Hub pricing throughout the forecast increases the marginal cost (fuel cost) of moving gas between hubs – widens basis.
AECO-NIT Price Forecast to 2035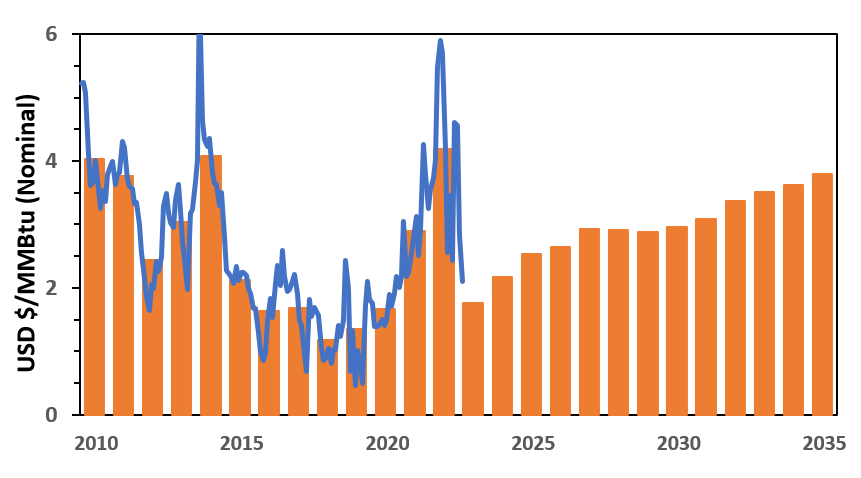 In general, all North American natural gas prices were impacted directionally the same over the past couple of years; downward due to the covid pandemic in 2020, increasing in 2021 as markets recovered and jumping considerably higher in 2022 following the Russian invasion of the Ukraine. However, not all price points were impacted to the same degree.
The 2020 AECO price of $1.70 USD/MMBtu is similar to prices seen in 2016 and 2017 but down 60% compared to $4.00 in 2010. Like all North American prices, AECO increased the 2 years following 2020; up 74% to $2.90 in 2021 and up a further 44% to $4.20 in 2022. Incorrys expects AECO prices to fall from $4.20 in 2022 to $1.80 in 2023 as increased supply balances the market. Prices generally continue to increase over the forecast period reaching $3.80 by 2035.
The AECO Hub, located at the Niska, Alberta gas storage site, is the Canadian benchmark price for natural gas on the Nova Gas Transmission Ltd. (NGTL) system. AECO or AECO-C is often used interchangeably with Nova Inventory Transfer (NIT).