October 7, 2022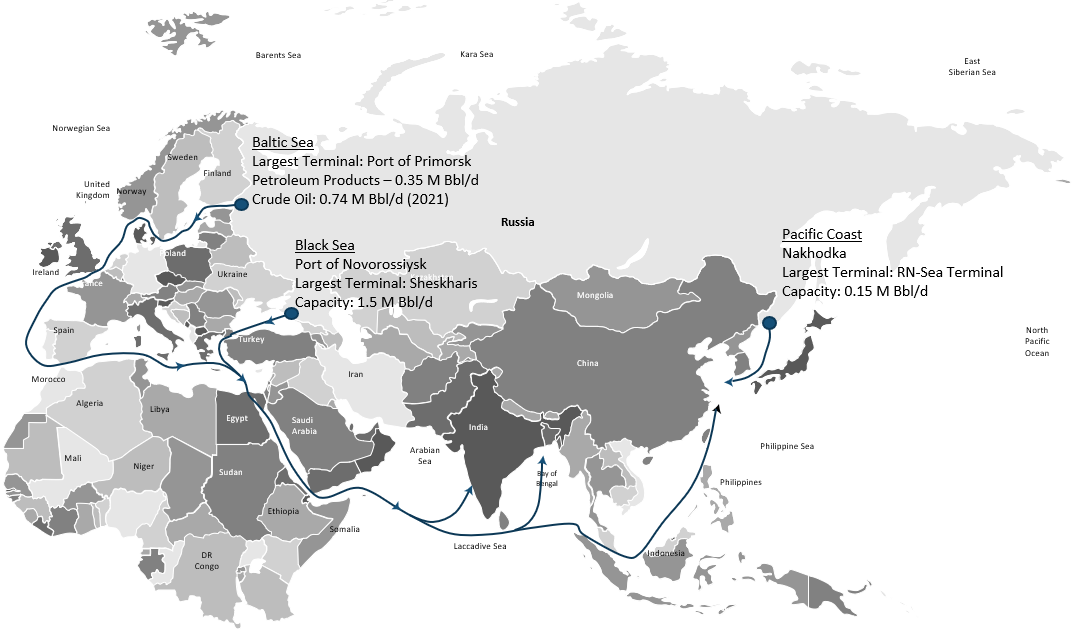 Russia exports crude oil from four main areas: the Baltic Sea, Black Sea, Pacific Coast and the Arctic. Russia has approximately 64 oil terminals although only a few of them are considered large export facilities. The newest export terminals have been added near St. Petersburg in the Baltic Sea and Novorossiysk in the Black Sea.
The Baltic Sea: Includes 19 oil terminals. The largest export terminal is Port of Primorsk with a capacity 1.5 M Bbl/d. In 2021, 0.35 M Bbl/d of petroleum products and 0.74 M Bbl/d of crude oil were exported via Primorsk.
The Black Sea: Includes 18 oil terminals. The newest port is Novorossiysk with Sheskharis terminal that has a capacity is 1.5 M Bbl/d. In addition, Novorossiysk is the home of Novorossiysk-2 terminal which is part of the Caspian Pipeline Consortium (CPC). It exports oil from Kashagan and Karachaganak fields in Kazakhstan. Pipeline and terminal capacity is 1.3 M Bbl/d which represents 80% of the total Kazakhstan production and almost all of Kazakhstan's exports. The terminal transfers 1% of global oil supply.
The Pacific Coast: Includes 8 terminals around Vladivostok, 2 terminals on Sakhalin island, and 2 terminals around Vanino. The largest terminal is RN-Sea Terminal with a capacity 0.15 M Bbl/d. The Pacific Coast's export terminals utilization is limited by pipeline capacity and local production.
The Arctic: Includes 10 terminals in various locations to provide export points from local fields. The largest terminals are the Gate of Arctic with a capacity 0.17 M Bbl/d and Varandei with a capacity 0.24 M Bbl/d.
Shortly after European oil sanctions take effect by the end 2022, Russia would have to redirect marine traffic away from Europe to Asia, primarily. Although shipping to Northern Europe only takes 2-4 days, shipping to India will take 22-30 days depending on where this ship comes from and its final destination. Shipping from the Russian Arctic to China takes up to 45 days.
Transportation costs fluctuate significantly depending on market conditions. The average capacity of Suezmax ships is around 1,000,000 Bbl while Aframax ships is around 600,000 Bbl. Incorrys assumes that breakeven shipping costs will be at least $20,000 for Aframax tankers and up to $25,000 for Suezmax tankers. In reality, the rate can be higher if the demand for tankers grows, and vice versa. For example, in March 2022, New York tanker consultancy McQuillings Services forecast 2022 earnings for the very large crude carriers (VLCC) at $11,000 daily, but only for the newest, most economical, scrubber-fitted tankers. Their forecast was based on the assumption of a significant drop in Russia shipments, which did not fully materialized.
If Russian oil is shipped to India, it will add $0.80 – $1.07 to the cost or only about 2.5% – 3.3% of the Brent/Ural differential over the July – August 2022 period. If Russian oil is shipped to China, it will add $1.65 – $2.20 to the cost or 5.1% – 6.8% of the Brent/Ural differential. It is important to note that this will be a cost to the buyer as oil price is FOB at the Russian export terminal; particularly Urals is FOB at Primorsk. As such, additional transit time will not affect costs significantly unless there is a limited availability of ships, in which case the rates will increase. Rates will also escalate with higher oil prices as certain amounts of oil will be burned to fuel the tanker during the journey. If China is to receive more oil from Russia as opposed to the Middle East, it will require more Suezmax ships rather than VLCC's although the shipping rates for VLCC's per barrel is lower than that of Suezmax ships.
Oil Transit Time from Russia to:
Northern Europe: 2-4 days
Europe Average: 8 days
West Africa: 25 days
Latin America: 30 days
India: 22-30 days*
China: 37-45 days*
*Depends on where cargo is loaded (Baltic or Black Sea) and the destination.
Sources: Energybase.ru
https://ihsmarkit.com/research-analysis/tanker-demand-to-grow-35-56-as-europe-avoids-russian-oil-asia-.html
https://www.euronav.com/media/65361/special-report-2017-eng.pdf