April 19, 2022
Energy East Pipeline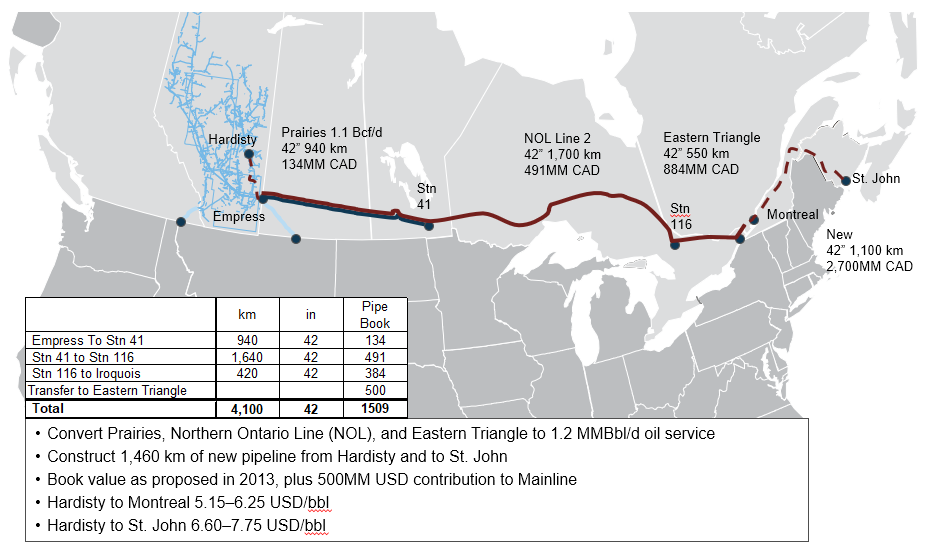 Energy East contemplated taking underutilized TC mainline gas facilities/loops and converting them to oil service – steel currently in place in the ground.
Modest toll forecast to move oil from Alberta to the Atlantic seaboard to service refinery customers in Montreal and St John, plus export markets.
Incorrys believes Energy East could access the St Lawrence within 2 years if the government supported it on a wartime footing.
As the Russian invasion of Ukraine continues, the rest of the world has begun to scramble for Btus in every form – Crude, Natural Gas, Renewable sources. The environmental file is quickly heading to the backburner as countries realize the economic and geopolitical imperative to energy security and the importance of strong allies with control of energy.
Maximizing Canada's Biggest Geopolitical Assets to Control Supply Chains
What should be Canada's biggest Geopolitical asset – huge reserves of oil and gas – has been neutered by years of inept government leadership and foresight coupled with strong negative influence by ENGO's (Environmental Non-Government Organizations) seeking to stop our resource development. Arguments that Canada's ethical oil (strong environment standards in a well governed democratic society) should be factored into developing and growing production have been shouted down by environmentalists proclaiming only the "E"mattered when thinking about ESG (Environmental, Social, and corporate Governance). Canadians against fossil fuels are now realizing they have enabled authoritative and undemocratic oil sheiks/czars trading their increased barrels, poor environmental standards, and increased emissions for a modest reduction of GHG growth at home.
The argument will be made that sanctions to impoverish Russians and force the rest of the world to scramble for barrels is the opportune time to trade oil for renewable sources. Unfortunately, the world is not ready for this transition. The transition to lower emissions will take time and, as we are learning from impowering Russian aggression, should be done strategically. The switch to renewable sources must be done with an eye on protecting future supply chains; the pandemic has illustrated our reliance on China for manufactured goods and services. This reliance risks empowering one authoritarian regime in China as we turn away from the other in Russia. Lessons must be learned.
Net Zero by 2050 may be a reasonable goal, Net Zero by tomorrow or 2030 is not. Advancing Canadian supply chains will require environmentally exploiting feedstocks for a renewable future. The ability to fast-track regulatory oversight for strategic economic inputs will allow Canada to usher in a meaningful reduction in worldwide emissions by 2050. Environmentalists have got to realize that Canadian standards for developing resources are far superior long-term and that offshoring this development to countries with lower environmental, labor, and democratic standards are not making a difference on a net basis. With this in mind, what can Canada do to advance Geopolitical standing and make a difference in enhancing Climate and democratic values around the world?
Maximize our Geopolitical Asset – Fossil Fuel Resources
This may seem counterintuitive however, increasing the availability of oil and gas to democratic allies means less going to authoritative regimes with both poor human rights and environmental standards. The TransCanada Mainline currently ships natural gas from Empress, Alberta to the US Midwest, US northeast and into Ontario and Quebec. A conversion from natural gas to crude service had been proposed in 2013 for 2017 in-service was shelved when the newly elected government made changes to the regulatory process post 2015 election. The chart shows TransCanada Mainline gas facilities which could be converted to oil service, and the modest toll forecast, to move oil from Alberta to refineries in Montreal and St. John (~600-700 MBbl/d currently supplied by imports) and gain access to tidewater markets from the Atlantic seaboard.
Highlighting the short-sightedness of recent Canadian Energy/Foreign Policy is the amount of revenue the Energy East project could have displaced from foreign marketers such as Russia and OPEC. This chart illustrates the cumulative revenue that could have been generated by moving 1.1 MMBbl/d between 2017 (when Energy East was projected to begin) to present is over US$120 Billion – part of this money/influence has instead gone to countries with values and goals very different to Canada and our close allies.
Energy East Revenue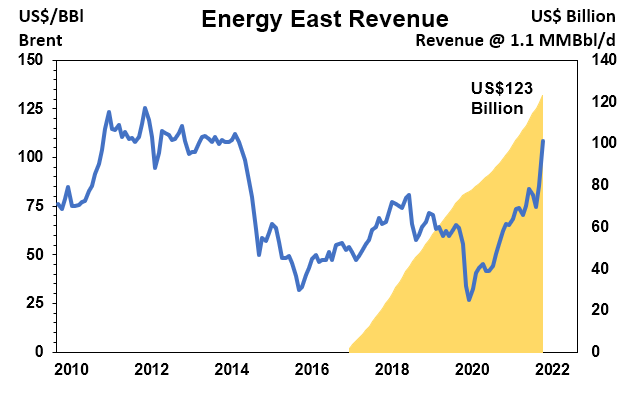 Protect Future Supply Chains – Globalization is Perishing
Future proofing of our renewable supply chains is of utmost importance if we want to meet Net Zero by 2050. Relying on regimes, which do not share Canadian values on climate and human rights, for rare earths and minerals required for Electric Vehicles, Solar, and other low carbon technology means Canada is beholden to their whims and impositions on our sovereignty. However, exploiting Northern Canada and Ontario's Ring of Fire for low carbon inputs will require a compromise with environmentalists. The Federal Government must prioritise work with Provinces and First Nations to reduce regulatory and investment uncertainty for developers looking to enhance Canada's strategic place in the renewable supply chains.
Outsourcing both fossil fuels and mineral development to jurisdictions with poor operating standards, and which are hostile to Canada's interests, just to reduce Canada's GHG footprint, is not progress!