April 8, 2022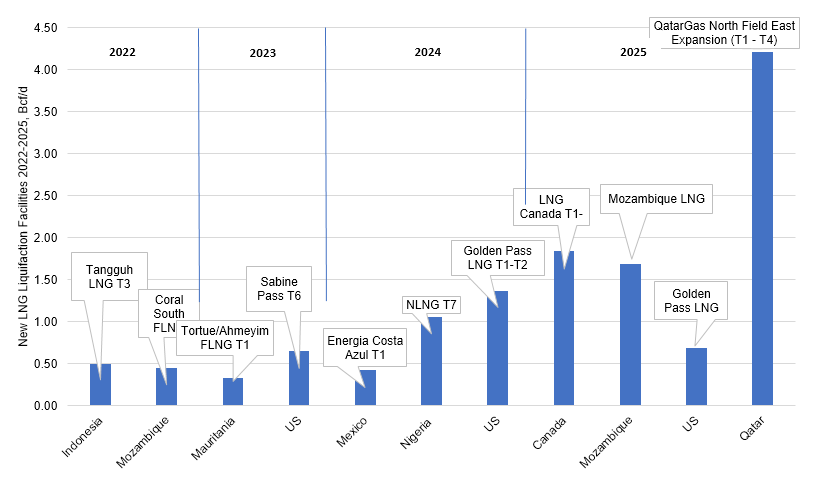 The chart shows new LNG liquefication projects, by Country and project, from 2022 through 2025.
LNG imports to Europe is one of the supply sources intended to replace natural has from Russia. In 2010 Europe received 10 Bcf/d of LNG.
The US Government plans to deliver to Europe an additional 15 Bcm (1.5 Bcf/d) of LNG by the end of 2022 and increase deliveries by 5 Bcm (0.5 bcf/d) each following year by rerouting LNG exports from other countries, primarily Asia.
Worldwide LNG liquefication capacity is expected to increase by 13.2 bcf/d by 2026, which is still not sufficient to fully displace Russian gas without conservation measures and pipeline gas from other countries.
The largest project is QatarGas North Field East Expansion with capacity of 4.2 Bcf/d.
New European regasification terminals and other infrastructure will be required to accept higher volumes of LNG.
Russian Artic LNG is not included due to uncertainties in the start-up date and volumes. Production from Arctic LNG was originally expected to start between 2023 and 2025.
Additional worldwide LNG liquefication capacity is proposed post 2025 with US proposals representing about 5.6 bcf/d.