July 5, 2022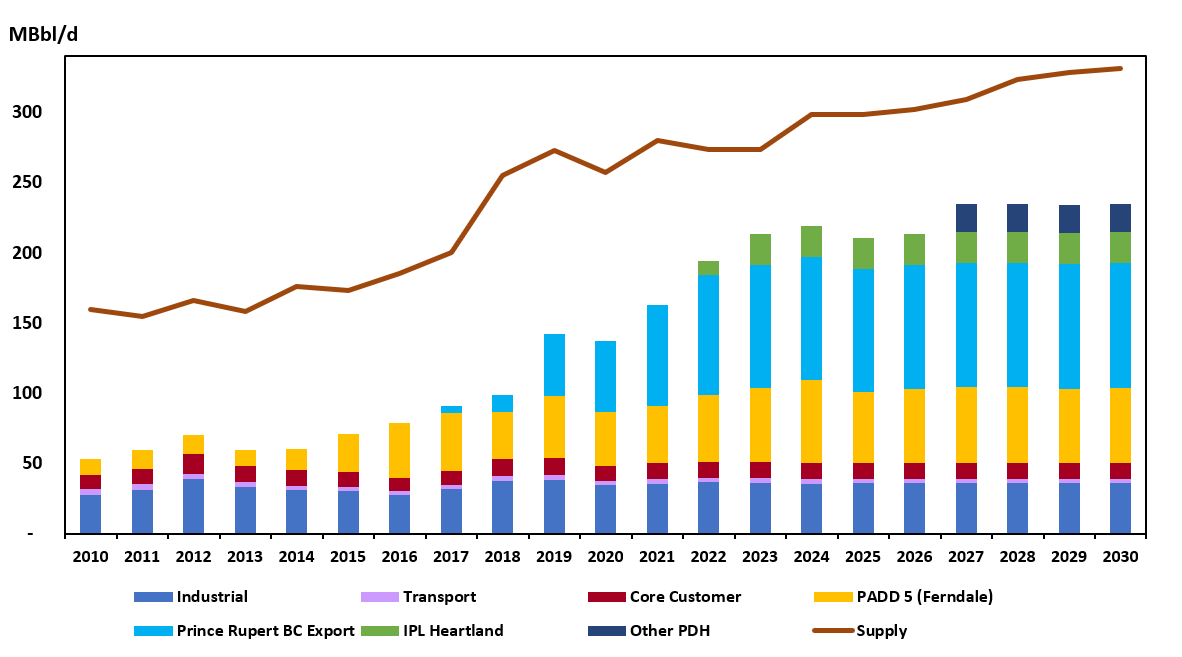 Figure shows Western Canada propane supply-demand balance, in which growing regional demand is outpaced by a strong growth in supply.
Within Western Canada, propane demand has historically been dominated by conventional industrial heating, crop drying, and for oil and gas enhanced recoveries through miscible flooding, solvent injection, or fracking. While space heating demand is generally seasonal and primarily serves remote regions, industrial use is characterized as baseload with increased demand in line with increased drilling activities and unseasonal weather. Overall, industrial, residential, and commercial demand is considered mature with an expectation that Western Canadian conventional demand will remain relatively stable with little appreciable growth throughout the forecast horizon.
During the past decade, the growth in liquids-rich natural gas supply throughout North America has resulted in an increase in North American propane supply in excess of domestic demand. This has resulted in a deeply discounted price for Western Canadian propane. As an outcome, Western Canada market participants looked for opportunities to reconfigure propane supply volumes away from traditional markets in Eastern Canada, the Midwest Markets (Conway, Kansas) and the Gulf region (Mont Belvieu, Texas) toward higher value markets in the Far East in addition to developing value added demand within the region. Recent developments include:
The Ferndale export terminal (40,000 Bbl/d) in Washington State provided initial access to Asian pricing for Western Canada propane. Investments in infrastructure and optimizing dock operations could increase capability to 70,000 Bbl/d.
AltaGas Ridley Island export terminal began service in 2019 (40,000 bbl/d) and now has the capability to ship 77,500 Bbl/d.
Inter Pipeline Propane Dehydrogenation (PDH) (21,000 bbl/d) began operations in July 2022.
Pembina Watson Island export terminal (20,000 bbl/d) started exporting in early 2021. Expansion plans to potentially double capacity was deferred in May 2022.
Pembina/Kuwait's Petrochemical Industries Company PDH (20,000 bbl/d) was suspended in Dec 2020. As LNG Canada comes online, Incorrys believes opportunities for increased PDH infrastructure will firm up and therefore, we are forecasting other PDH starting up in 2027.