May 11, 2022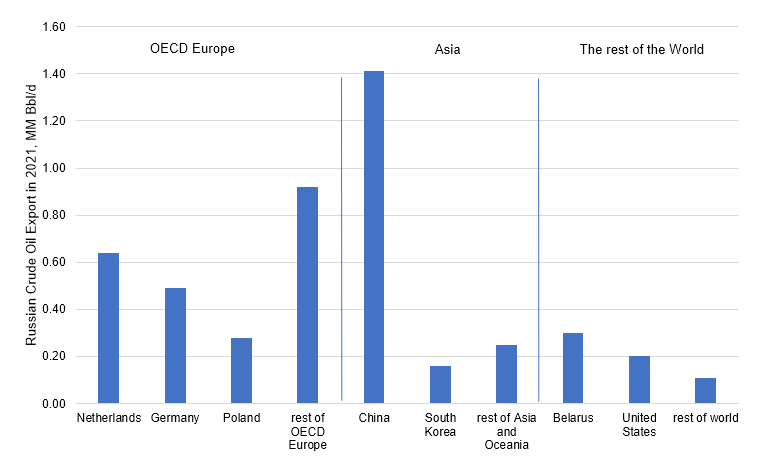 In January 2021, Russian oil production was 11.3 MM Bbl/d. Russia is the world's third largest oil producer after Saudi Arabia and the US.
In December 2021, Russian exports of crude oil and condensate was 5 MM Bbl/d. Total export of refined products was 2.9 MM Bbl/d.
In 2021, Russia exported around 2.3 MM Bbl/d of oil to OECD Europe. Most exports are done via the Friendship Oil Pipeline.
China remains the largest buyer of Russian oil (1.4 MM Bbl/d in 2021). China receives oil from Russia by both tankers and pipeline.
EU plans to reduce its dependency on Russian oil via full or partial oil embargo. A Russian oil embargo must be carefully planned and executed:
Current Russia-EU trade utilizes smaller short-haul Afromax tankers whereas, longer haul re-routing of Russian supplies away from EU and replacement supplies to the EU will require larger VLCCs which are currently in short supply.
This can lead to increased oil prices which in turn would benefit Russia; albeit with wider differentials. Russian oil needs to be replaced, at least partially, by production growth in other parts of the world.
Some countries in Central Europe, including Hungary and Slovakia, receive oil primarily by Russian pipeline.
Russian companies, including Rosneft and Lukoil, own refineries in Europe.
Source: EIA https://www.eia.gov/todayinenergy/detail.php?id=51618