August 19, 2021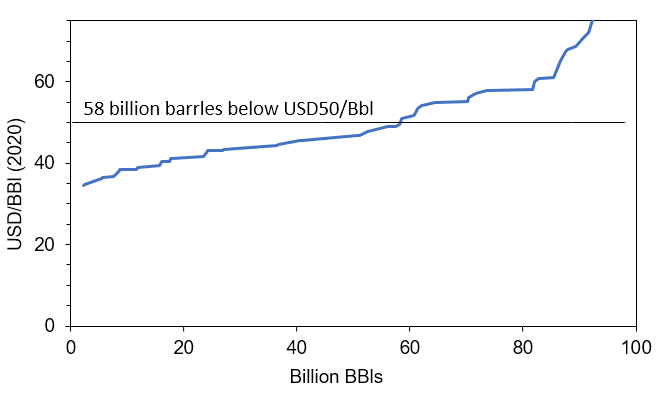 Incorrys has utilized similar full-cycle natural gas methodology to construct a shale oil cost curve of the largest North American plays (Permian (Spraberry, Wolfcamp), Bakken, and Eagle Ford).
About 58 Billion Bbls of yet to be developed unconventional shale oil resources are available with a full-cycle cost less than USD50/Bbl. An additional 32 Billion Bbls  is available at a cost under USD70/Bbl. Long-term, prices in excess of USD55/Bbl (real 2020) will spur drilling and production growth, tempering oil price upside.
Excess debt due to COVID induced oil price crash has limited the current priority of producers to reinvest and grow production in the near term. Incorrys expects reduction of balance sheet debt to trump growth investment until post 2022, allowing near term oil prices in excess of US$55/Bbl.
Growth investment requires more than increasing rig count. Development in pipeline infrastructure for both incremental oil and associated natural gas volumes, utilities, water handling are all required and take time to bring into service.