June 14, 2023
Projects Under Construction by Country (GW)
Six large solar energy construction projects began in 2022, two of which are in India.
India recently announced plans to add 250 GW of renewable capacity over the next five years to meet its target of 500 GW of clean energy by 2030.
Saudi Arabia is also making big investments in solar power with plans to build the world's largest single-site solar power plant in Mecca province. The facility is expected to start operations by end of 2025, with a capacity of 2060 MW.
The total amount of investments in these six large solar projects is USD $7 billion. India represents one third of the total investing USD $2.3 billion and Saudi Arabia and Mexico combined (approximately USD $1.7 billion each) account for almost half.
Capacity by Country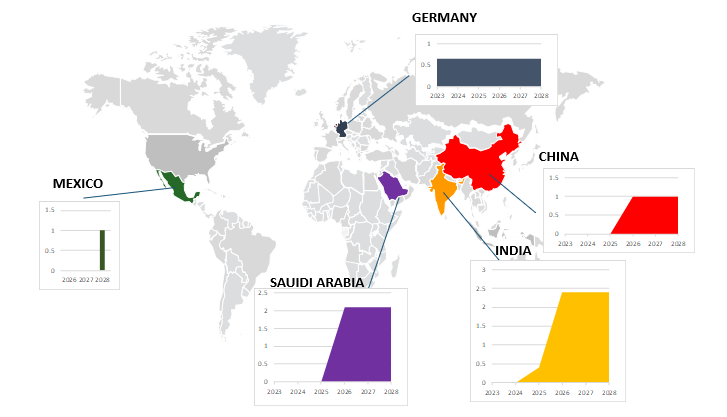 Shows planned start date and cumulative capacity for the 6 largest construction projects in 2022; 7.15 GW total.
90% of all planned capacities begin operation before 2027, the only exception is Mexico with a plnned start date in 2028.
India leads in both capacities and investments.
1.Energy & Utilities (2022, December, 9), Saudi Arabia to get its largest solar plant, Saudi Arabia to get its largest solar plant | Transformers Magazine (transformers-magazine.com)