May 16, 2023
2022 Market Share
*Other Includes: US, France, Argentina, Bangladesh, Belarus, Brazil, Egypt, Iran, Slovakia, and UAE
17 countries are currently building nuclear power plants.
Half of all projects are facing various levels of delays in construction – some about 2-3 years, but for main users the delays are significant (5 years or more).
Today, 32 countries have operating nuclear facilities. By 2035, the number of countries is expected to be between 42-44, an increase of about 30%.
Over 60 reactors are currently under construction – primarily in the Asian region .
China's share of facilities under construction is 40% with 90% of them on time. They have made big investments (SD $12 billion) and are commissioning new reactors almost yearly.
India ranks 2nd at about 10% of new construction, although they are experiencing delays due to the inability to import required components from Russian and the Ukraine.
China and India represent about 50% of worldwide facilities currently under construction.
Annual Investments in the Nuclear Industry
Annual global investments have been growing year-over-year since 2018 and are expected to reach USD $49 billion in 2022 – 44% higher than in 2018.
Accounting for expected delays of 2-5 years, Incorrys believes that the main projects, with additional capacities of 62 GW, will still be realized by 2030.
China is one of the few countries not experiencing major delays.
Nuclear Power Plants Under Construction by Country (2023-2030)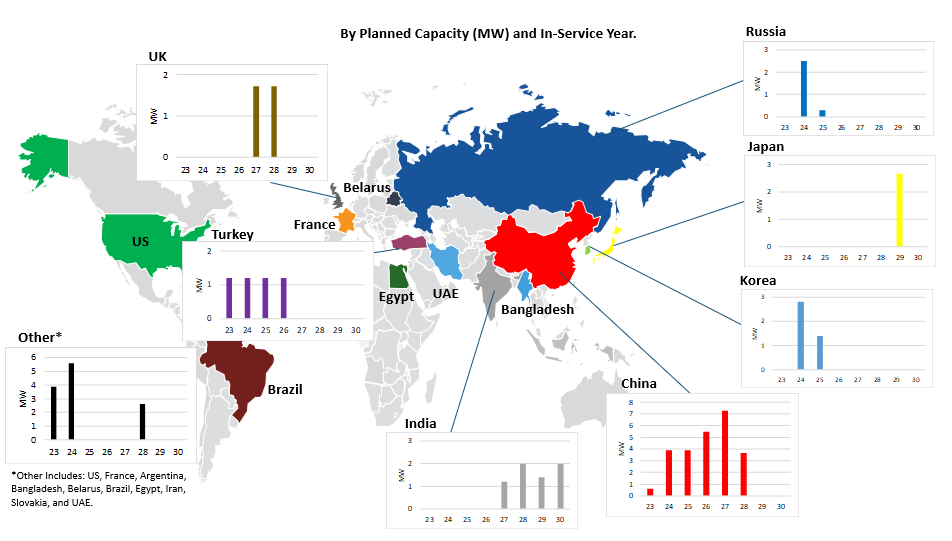 China leads the way in nuclear capacity under construction and is expected to install almost 25 MW by 2028, 40% of the total worldwide capacity of  63 MW. China is followed by India with almost 7 MW (11%) and Turkey at about 5 MW (8%).
1.IEA, 2023, Energy investment is set to pick up by 8% in 2022 against the backdrop of the global energy crisis, but almost half of the increase in capital spending is linked to higher costs, retrieved from Overview and key findings – World Energy Investment 2022 – Analysis – IEA
2.World Nuclear Association, April, 2023, Plans For New Reactors Worldwide. Retrieved from https://world-nuclear.org/information-library/current-and-future-generation/plans-for-new-reactors-worldwide.aspx